Vintage Nixie Tube Clock
Read more about the Nixie tube clocks production. We are ready to answer all your questions:
Welcome to Vintage Nixie Tube Clocks Workshop
I am pleased to announce that now you can buy our retro Nixie tube clocks at our online shop. Earlier we've been selling our clocks only via Ebay, Etsy, and Amazon shops only, which means that we had to pay extra fee per item. Buying at this online shops allows you to save some money, and get this Vault Nixie tube clock for $300 per item instead of $315 for the simple model, and for $345 instead of $360 for the vacuum tube clock with the brass corners.
You can choose the color you like: lite-tone wood, or red wood. All the enclosures are made of alder, and can be polished with the Finnish oil (green product) by your request. It takes us over 30 hours to make one item, for more details, please read about us.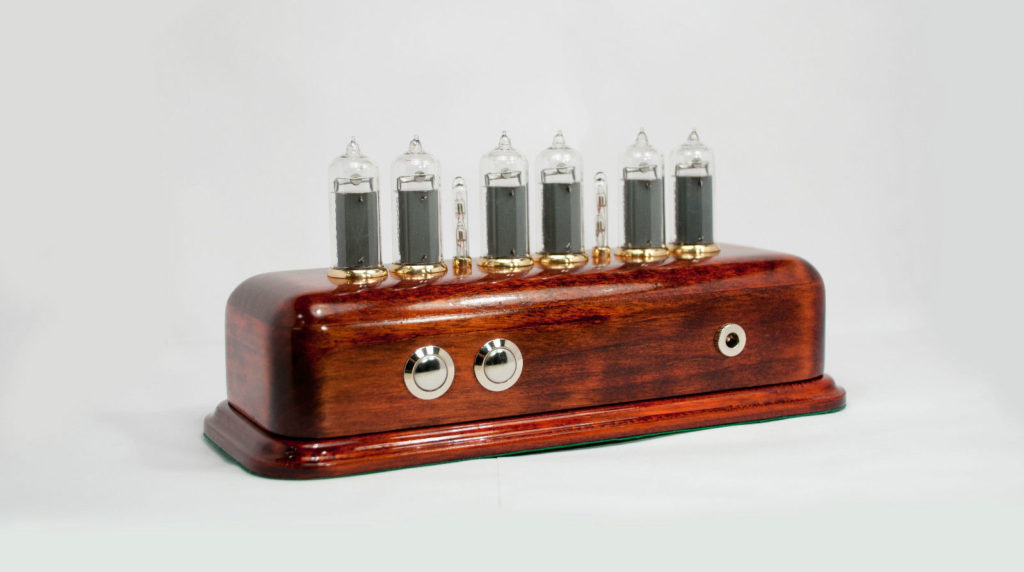 The clocks are fully hand-crafted. We've made this retro Nixie tube clocks inspired by Vault-boy and Fall Out world. The clocks have 6 modes of Nixie tubes' brightness. The longevity of the Nixie tubes is up to 200 000 hrs. o prolong your tubes' longevity, we suggest you to avoid using the brightest mode all the time. We've also programmed your clocks with the tube safety mode, that runs every 15 minutes, and prevent Nixie tube cathodes' poisoning.
Clocks also have blue lightning modes (6 modes, including turn-off mode). You may choose 12-hours-time displaying, or 24-hours-time-displaying. For Thailand residents: we, unfortunately, do not have a 6-hours mode yet, but we are open to suggestions 🙂
Aren't they beautiful? 🙂 Love each and every nixie clock we make. Check our gallery to see more photos.
Dimensions: 235 x 100 x 105 mm size.   Weight: 0.8 Kg. Power: 12V / 1.5A,
adapter included. Feel free to ask any questions about Vault Nixie tube clocks, we are happy to chatter about it for hours!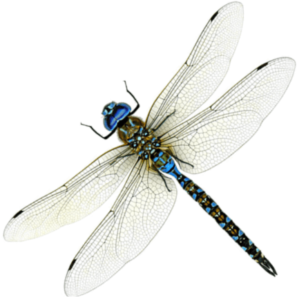 Meet our newcomers: "Woody" – wooden nixie clock with brass corners: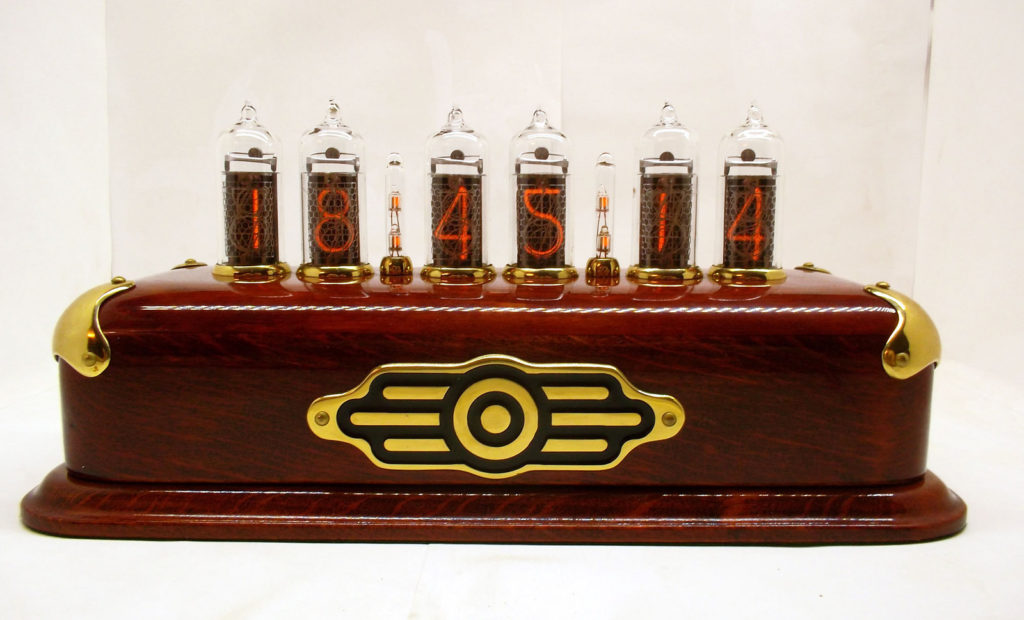 And "Qwerty" – simple, plane design that fits Scandinavian style interiors: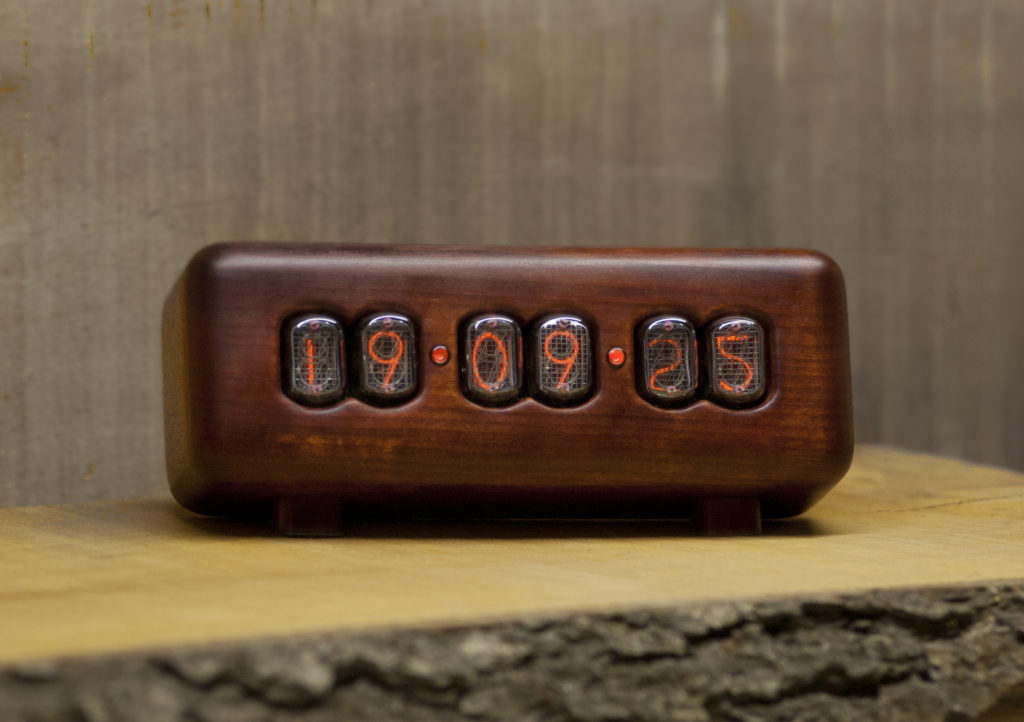 News about Nixie tube clocks:
1952 wurde die Nixieröhre von den Haydu-Brüdern als Vorläufer des Computer Monitors für die Burroughs Corporation entwickelt. Der Name des Versuchsprojektes "Numerical Indicator experimental": NIX-1 wurde als NIXIE schnell zum allgemein bekannten Namen dieser Ziffernanzeige-Röhren. Bis LEDs ihren Siegeszug in den 70er Jahren antraten, waren Nixie-Röhren die beinahe einzigen numerischen…
I am glad to share with you my new design for vacuum tube clocks. I like it and IMHO it looks a bunch more vintage and steam-punkish. So what's new with this model: new brass cornerpieces soft-shaped labels new palette of colors used in case What stays the same: adorable…
In spite of the fact that I was born in the middle of 90th, and never ever visited the USA yet, I feel unexplainable nostalgic for the spirit of New York city in 70th. Neon commercial signs, vintage cars, the spirit of steam punk in every corner, greenish industrial mist…
READ OUR REVIEWS:
Read what people say about our clocks.